Cable, fiber systems deliver broadband service at or near advertised speeds, DSL generally doesn't, FCC report says
10 December 2018,
-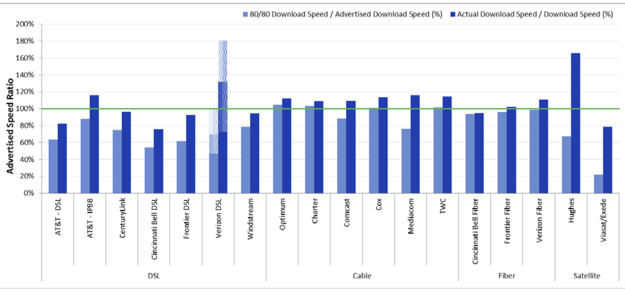 The FCC's primary broadband metric is now the 80/80 benchmark: the minimum speed that 80% of users experience, 80% of the time during primetime viewing hours. When evaluated against that benchmark, cable modem and fiber-to-the-home systems do a reasonably good job of delivering service at advertised speeds. Among Californian providers, only Comcast fell noticeably short, with actual download speeds hitting around 90% of what they promise.
Telco ... continue reading »
Cable to defend Californian monopolies with attacks on independent projects
9 December 2018,
-

Comcast, Charter Communications and other cable companies are demanding the right "to challenge each and every application" for broadband infrastructure subsidies from the California Advanced Services Fund (CASF). Their lobbying front organisation, the California Cable and Telecommunications Association (CCTA), made their perpetual litigation plans clear in a new round of comments on the California Public ... continue reading »
Community broadband expertise from Tellus Venture Associates…
Tellus Venture Associates helps communities develop broadband policies, programs and networks that will attract new businesses and jobs, revitalize commercial and industrial areas and deliver state-of-the-art resources to residents and businesses.
Services include broadband planning, partnership and funding development, feasibility studies, policy drafts, RFPs, staff reports, and evaluation, negotiation and implementation of projects.