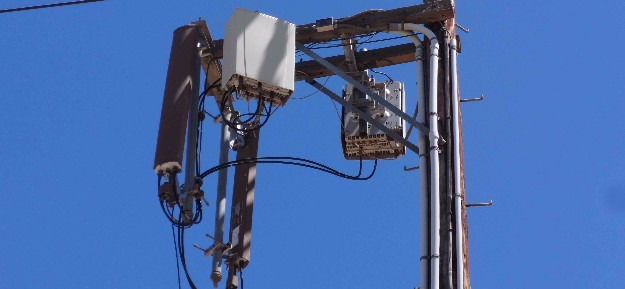 There's bad news and maybe a little good news for cities in a draft U.S. senate bill that aims to speed up wireless broadband deployments. Senate bill 3157 was introduced last week by senators John Thune (R – South Dakota) and Brian Schatz (D – Hawaii). It's a bipartisan and significant pairing – Thune chairs the senate's commerce committee and Schatz is the ranking democrat on its communications subcommittee.
The bad news is that the bill would reduce the amount of time local governments have to process permit applications for wireless facilities. In cities with populations of more than 50,000 people, an application for a new "small personal wireless service facility" would have to be granted or denied within 90 days, or else it's automatically "deemed granted". Permits for adding more equipment to an existing facility – a collocation – would have to acted on in 60 days. Smaller cities would get more time, up to 5 months in some cases.
Under current California law and Federal Communications Commission rules, it's a 60 or 90 day limit for collocations and 5 months for new sites, also with automatic approval if the shot clock runs out.
The good news, such as it is, is that the bill specifically allows cities and states to "regulate the placement, construction, and modification of small personal wireless service facilities" on aesthetic, concealment, safety and structural engineering grounds.
The National League of Cities isn't happy with the bill, according to Politico.com…
"We are disappointed that the Commerce Committee did not fully address our concerns about local preemption, and imposing a new federal one-size-fits-all mandate for small cell deployments won't work for all cities," said Tom Martin, a spokesman for the league. The National League of Cities had objected to the original draft proposal circulated last October, arguing its provisions would be unfair to municipalities.
Thune wants to hold a hearing on the bill later this month. Thune and Schatz teamed up on the bill proposed last year. This time around it's a bit less tilted toward mobile carriers and it could have enough support to make it into law.