Stephen Blum is president of Tellus Venture Associates, a management and business development consultancy specializing in developing new community broadband systems, and serving the digital media and telecommunications industries, .
He is a 30-year industry veteran and recognized as an expert in developing new satellite, wireless and fiber optic broadband systems, and Internet services and products.
Accomplishments include playing key roles in the launch and growth of DirecTv in the U.S., as well as other satellite broadcasting platforms around the world. He helped build the first satellite distribution system for network radio in 1980, and was an award-winning broadcast journalist and television executive. He spent two years as a Fellow at the Jackson School of International Studies, and followed it up with consulting and research in Japan.
Steve is the author of seven books on the Internet and satellite broadcasting and is a frequent contributor to professional journals and industry events. A complete list of his publications is here.
His education includes:
A.B., History, University of California, Berkeley.
M.A., East Asia Studies (Japan), Jackson School of International Studies, University of Washington.
M.B.A., Marketing, University of St. Thomas School of Business.
Management Institute, National Association of Television Program Executives.
Nihongo Gakkai, Kobe, Japan.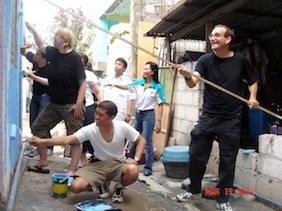 Steve is Past President of the Rotary Club of Monterey Pacific, Vice President ex officio of the Society of Satellite Professionals International, a member of the New Zealand Wireless and Broadband Forum, an alumni and past team leader of the Rotary Foundation, a member of the Rotary Action Group for Microfinance, and a past Vice President of the World Affairs Council of the Monterey Bay Area.
He has received several major professional honors, including the PRSA Silver Anvil and the Ellen B. Scripps Fellowship. A complete list is here.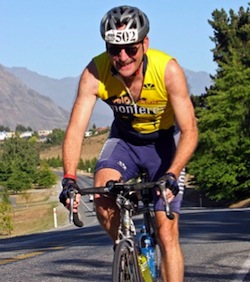 A Monterey Bay Area resident, he is a triathlete and a multiple Ironman finisher, placing in the top 100 overall (out of more than 38,000 athletes) in the Challenge series world rankings for 2011. Steve has raced in Ironman-distance events on every continent, save Antarctica (and he's working on that…) He is a Past President of USA Triathlon Southwest, and a fundraising and strategic planning volunteer for the U.C. Berkeley Alumni Association.
His recent projects are here. Steve's other projects and assignments include:
Developing a commercial broadband master plan and negotiating the agreement that led to the construction of a privately-funded fiber optic network for the City of San Leandro.
Financial analysis of a user-financed fiber-to-the-premise system and planning a fiber and wireless municipal network expansion for the City of Palo Alto.
Industry expert and analyst for venture capital and investment firms.
Marketing and business development for Internet broadcasting and consumer electronics start-ups.
Business development roles for high technology ventures, satellite and semiconductor manufacturers, and telecommunications companies.
Evaluating broadband infrastructure and services in Alameda, Contra Costa and Solano Counties, and preparing detailed, city by city maps and report cards.
Business plan and financing development, including private equity funding and California Advanced Services Fund grant and loan applications, for private sector broadband projects in Nevada, Santa Cruz, Monterey and San Benito Counties.
Managing the development of a broadband policy bank and infrastructure inventory for California's Central Coast region.
Chief operating officer of a wireless ISP.
Senior vice president of marketing and sales for an IPTV consumer electronics company.
Due diligence lead for an NGO delegation to Angola
Team leader for an NGO project in the Philippines.
Development of satellite radio systems in Africa, the Middle East, and the U.S.
Principal negotiator for a cable system sale to a top tier MSO.
Managing consultant for a public/private WiMAX network deployment.
Principal consultant for comprehensive feasibility studies for municipal wireless broadband systems.
Management advisor for satellite broadcasting systems in North and South America, Asia, the Pacific Rim, Africa, the Middle East, and Europe, including most recently Italy, Cambodia and New Zealand.