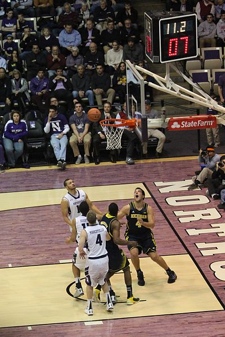 Cities have to shoot, but that doesn't mean wireless companies will score.
Another barrier to construction of wireless broadband facilities has come down. Or, depending on your point of view, the federal government has pre-empted a bit more of local government's ability to regulate what's built or not in a community.
The U.S. supreme court has given its blessing to the FCC's "shot clock" rule that put limits on the amount of time a local agency has to approve or deny an application to build a tower or put new equipment on or around an existing one. The 6 to 3 ruling focused on narrow and arcane legal issues, but the effect could be felt far beyond communications law. Essentially, the court is saying that when a federal agency makes specific rules to implement or enforce a somewhat vague law passed by congress, the assumption is that the agency knows what it's doing.
The FCC's shot clock rule says that local governments have to approve or deny an application to build a new wireless site within 5 months and a request to add equipment to existing facilities within 3 months. There's still wiggle room. Applicants have to respond to requests for more information quickly and some issues – environmental regulations, for example – might take more time. If the clock runs out, it just means that the applicant can take the local agency to court. Wireless sites are not automatically approved.
However, other FCC rules say that local agencies must approve applications to add a certain amount of equipment to an existing tower or site. Combine that with the shot clock particularly and the court's endorsement of the FCC's authority generally and it's looking like the pace of wireless broadband expansion will pick up.
U.S. consumers are more dissatisfied with their Internet service providers than with any other product or service on the American Consumer Satisfaction Index.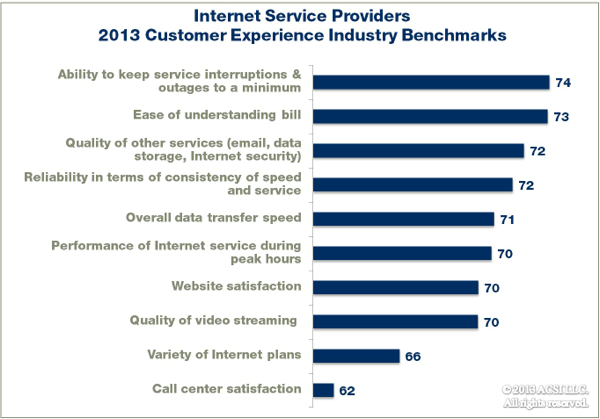 ACSI scores overall consumer satisfaction with ISPs at 65 on its benchmark scale, just below airlines (67) and subscription TV (68). TVs/VCRs (86), cars (84) and soft drinks (84) top the list. Municipal utilities (76), wireline phones (74) and mobile services (72) fall into the middle of the pack.
Subscribers consider their service to be too expensive and unreliable, problems ACSI chalks up to a lack of competition…
High monthly costs and problems with both reliability and speed are the main culprits. Add to that a landscape that is even less competitive than subscription TV service (the satellite companies do not compete here) and there is little incentive to improve service. Dissatisfied customers have a difficult time leaving their provider for an alternative supplier. Options such as Google Fiber may eventually force current ISP providers to step up their customer service.
Internet subscribers have a long list of gripes with their providers…
According to Internet users, the ISP industry does not deliver on any aspect of customer service in a particularly impressive fashion. ISPs struggle to keep service interruptions and outages to a minimum (an industry level benchmark of 74), plus the overall reliability of service (72) is much worse than it is for other types of telecommunications services.
The numbers wouldn't have changed much, if at all, had ACSI included satellite Internet providers in the survey. The focus was on the big ISPs. Verizon did the best with a benchmark of 71. The rest were Cox (68), AT&T Uverse (65), Charter (65), CenturyLink (64), Time Warner (63) and, at the bottom, Comcast with a 62. "Other" also scored a 71.
This ACSI survey was the first to include ISPs. That doesn't excuse the poor showing, but it does provide a way to assess whatever improvements may come in the future.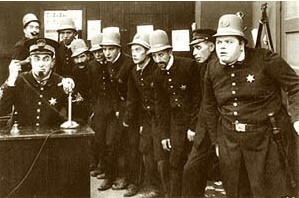 Nothing to see here. Move along.
A new analysis of proposed changes to the California Advanced Services Fund (CASF) ignores restrictions added at the urging of cable and telco lobbyists. The primary purpose of the CASF program currently is to fund the construction of new broadband facilities in areas that don't have access to service of at least 6 Mbps download and 1.5 Mbps upload speeds. If California state senators base their vote on the latest summary prepared by legislative staff members, they'll think they're voting to 1. match amount of money added to the fund with the state's needs and 2. make it possible for a wider range of companies and organizations to apply for broadband infrastructure subsidies.
Which is nonsense. As it currently reads, senate bill 740 would effectively cap CASF at its current level, make it more difficult to fund projects intended to improve substandard service and add restrictions that would all but eliminate middle mile facilities or municipal systems from eligibility.
As first drafted, SB 740 would have added $100 million to CASF and, as it still does, allow independent Internet service providers to apply for grants and loans. Cities and counties would have been eligible as well, on the same terms as any other applicant. But a full court press by lobbyists from the California cable industry, AT&T, Verizon and Frontier convinced state senators to turn the language around 180 degrees from its original goal.
No immediate decision is expected on SB 740. Because it involves a significant amount of money, it is being put on hold until after the legislature finalizes a state budget. Which means it'll either get thrown into the wheeling and dealing that happens as the legislative session draws to a close, or it'll die a quiet death.
Either way, there will be little opportunity for public debate about how California does or does not subsidize broadband development, leaving discussion and decisions in the hands of lobbyists and legislative insiders.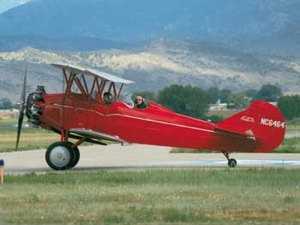 Taxiing towards takeoff in Longmont.
The Longmont, Colorado city council settled for a staff report and a powerpoint presentation that summarized the results of a feasibility study, before voting unanimously to take the next step toward building a municipal fiber-to-the-home system. The nitty-gritty details – business model, raw research data, quantitative analysis and the like – are being kept out of the public domain for now.
The report asked the city council to allow staff to continue moving ahead with work on the project, and in particular to give the city's finance director permission to develop a financing plan, based on various debt options. The bottom line, according to staff, is that…
Debt service repayment will come from the broadband services revenues. Details on financing will be presented at a future council meeting.
In other words, the assumption going forward is that once the system is up and running in something like three years, it will generate enough operating profit to repay the debt incurred to build it. Other municipal FTTH and cable systems – including Provo City and Utopia in Utah and Alameda in California – have gone ahead on that assumption but did not attract sufficient subscribers. The Utah projects have market penetration in the 15% to 20% range, while in Alameda the city's share went as high as 30%, before slipping back due to intense competition. Longmont is counting on a 36% take-rate.
Three debt options are on the table: lease-back financing secured by city property, bonds backed by revenue from the city's electric utility or bonds backed by sales tax receipts. If Longmont's FTTH financial projections are correct, the system will be self supporting. If not, lenders will get any revenue or property offered as collateral.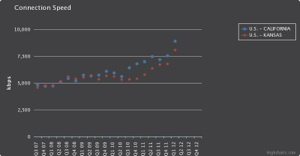 Kansas kicks it up.
Average Internet download speeds over the entire state of Kansas jumped by 86% in 2012, according to the State of the Internet tracking report from Akamai, a content delivery network pioneer.
To be sure, Akamai's study relies on its own observed traffic and more or less ignores low speed, sub-256 Kbps connections, which would bring the average down. But its methodology is reasonably consistent across geographic markets and provides a fair basis for making comparisons.
Even though Google Fiber subscribers are seeing actual average speeds twice that found elsewhere in Kansas, Akamai says that traffic does not account for the speed boost:
The number of unique IP addresses observed for the Google Fiber [system] comprised less than one-tenth of one percent of the state's total, so Google Fiber's higher speeds are unlikely to have had a meaningful impact on the average and average peak connection speeds observed in Kansas during the quarter.
It fits a pattern I've seen, first hand, several times: telcos and cable companies respond to competitive overbuild threats by investing in plant upgrades. I think that's part of the explanation. Another factor could be raised expectations among Kansans generally. Besides basic infrastructure, Akamai's speed measurements also depend on the service consumers choose to buy. So if the Google buzz in Kansas City is contagious, that could boost demand for higher level Internet packages, which in turn would increase observed speeds.
Correlation does not prove causation, but I think it's a fair bet that Google's stimulation is producing the desired effect in Kansas.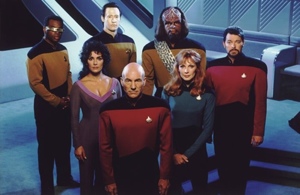 It's more than a 5 year mission to the next generation.
Samsung's latest mobile technology announcement could result in faster mobile data traffic running on much higher frequency bands. Speeds of up to 1 Gbps on the 28 GHz band have been claimed, using antenna designs that are intended to mitigate the poor indoor penetration and range associated with millimeter wavelengths. It's experimental – the commercialization target is 2020 – and intended to be a foundation for 5G service.
5G is undefined at this point, except that it's whatever the next big step up from 4G will be. Deployment is assumed to be some time in the next decade. It's likely to involve more densely packed cells with smaller coverage areas, including in-home femto cells and distributed small cells outdoors. Plus a healthy dose of WiFi offload.
If you make cell sizes smaller, you can use spectrum more intensively. Samsung's technology fits well with that approach: whiz-bang antennas notwithstanding, higher frequencies are more useful at shorter distances.
Whatever it turns out to be, developing 5G technology is absolutely necessary. Mobile traffic continues to increase and the amount of spectrum available is finite. Making use of other bands, like Samsung is doing, will be one piece of the puzzle. 5G will encompass a range of technologies and approaches.
Qualcomm has made "1000x" its mantra. If mobile traffic more or less doubles every year, the compounded growth will be one thousand times in less than ten years, outstripping the capacity of 4G technology. That's why technology leaders are putting markers down on 5G technology today.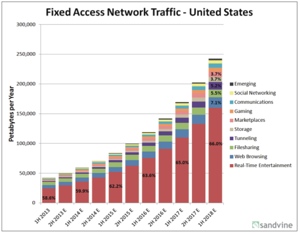 And the hits just keep on coming.
One-third of prime time Internet traffic on North American wireline networks is generated by Netflix viewers. Another third comes from other video sources – legal and otherwise – and anything else people do on the Internet accounts for the remaining third. That's according to the latest semi-annual report by Sandvine, an Internet technology and research company based in Waterloo, Ontario.
Mobile viewers, however, prefer shorter videos on YouTube, which accounts for 27% of peak mobile download traffic, as well as coming in second place on fixed networks at 1%. Netflix's long form programming only accounts for 4% of mobile download traffic, seventh on the list.
BitTorrent-based peer-to-peer traffic of more doubtful provenance is falling behind legal streaming from Netflix, YouTube and the like. It's fourth on the download list, with about 6% of the total. On the other hand, about a third of the upload traffic on North American wireline networks is still generated by BitTorrent file sharing.
Probably not so coincidentally, the heaviest one percent of users also account for a third of the upload traffic. The study doesn't come to any explicit conclusions, but the inference is clear: the small fraction of users that do a lot of uploading are more likely than not primarily engaged in file sharing.
On a monthly basis, the average North American household downloads 39 GB and uploads 6 GB. That's a 39% increase compared to a year ago. But heavy users skew those numbers too. Half of North American households download 16 GB and upload 1.3 GB a month or less.
Sandvine's research more confirmation, if any were needed, that the continuous growth of Internet traffic is driven by video consumption.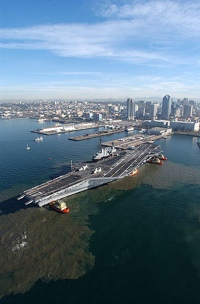 A good place to talk about water, land and technology.
I was asked to do a presentation on broadband trends at the Urban Land Institute's spring meeting in San Diego today. Specifically, it was for one of the ULI's community development councils, which is focused on planned community developers. I had to narrow the list down to five:
Conduit is gold. Cities and private developments can build a base for jobs and industry just by putting conduit in the ground whenever a trench is opened. And it's a no brainer for greenfield developments.
Google wants to disrupt the telecoms business and, on the available evidence, it's succeeding. By threatening incumbents with competition and raising consumer expectations, it's shifting the conversation away from wireless spending and back to fiber optic investment.
Independent middle mile fiber optic infrastructure is the key to economic development for communities outside of core metropolitan areas. And not very far outside, either. Pulling a fiber a few dozen miles over the hill from Santa Clara has re-energized Santa Cruz's economy.
Qualcomm's assumption that mobile data traffic will grow one thousand times in the next few years is simple math. The next generation of mobile data technology will push small cell sites and connecting fiber closer and closer to users.
Connectivity brings you all the comforts of work, where ever you live. Telecommuting, co-working and wireless-equipped company commuter buses make it possible for people to live in the urban areas they love and work at suburban corporate campuses, or chill by the beach and email the job in.
No one builds new housing without planning for water, energy and transportation. My message was that broadband joined that list in the twenty-first century. In other words, now.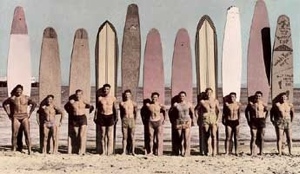 Pioneering surfing of all sorts.
Model broadband development policies are on a fast track in Santa Cruz County. On a unanimous vote yesterday, county supervisors gave staff three months to evaluate four specific recommendations and come back with an action plan.
"This is a far-reaching agenda for increasing the region's access to broadband by lowering the administrative barriers to entry for, and increasing coordination between, private telecommunications providers," wrote Zach Friend, the county supervisor behind the effort.
The policies now under review in Santa Cruz include:
Setting standards and practices for putting broadband facilities in public right of ways.
Creating an online system to coordinate projects that cut into public streets, so that interested private sector companies can take advantage of opportunities to install broadband infrastructure while trenches are open.
Putting information about broadband facilities, public and private alike, into a database and keeping it up to date.
A "dig once" policy, that proactively includes broadband facilities in public projects. Examples include simply installing empty conduit whenever road construction or maintenance work is done.
This framework of model broadband policies was developed by Peter Koht at the City of Santa Cruz, which is also evaluating it. The work is part of a project undertaken by the Central Coast Broadband Consortium (CCBC) and funded by the California Advanced Services Fund. It was presented to elected officials from Santa Cruz and Monterey Counties at a workshop last month that was organized by the Monterey County Business Council on behalf of the CCBC. The objective is to have local agencies in the region – which also includes San Benito County – adopt similar policies.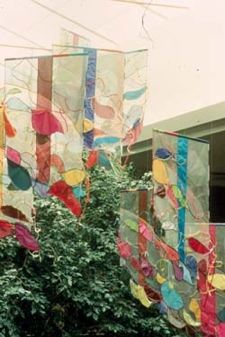 Art is nicely presented in Longmont, too.
The city council in Longmont, Colorado considers today whether to move ahead with plans to build a municipal fiber-to-the-home system. They'll be reviewing a feasibility study prepared by a consulting company and then deciding whether to direct city staff to come up with a financing plan.
Longmont is near Boulder, in the Denver area. The city runs its own electric utility, serving about forty thousand households, and has a backbone fiber optic network that was installed about fifteen years ago to support utility operations. Since then, a handful of dark fiber customers have signed up, generating about a quarter of a million dollars a year for the city. A couple years ago, voters decided to use that money to finance connections for businesses willing to pay a connection fee that can run into thousands of dollars.
The plan that's under consideration now would eliminate connection fees and build out the system to the entire city, homes and businesses alike.
The full feasibility study isn't public yet, but a summary presentation has been released ahead of the meeting. The numbers indicate that the business plan is built on the assumption, drawn from a survey of 400 homes, that 36% of residents will sign up for Internet service and 20% for telephone service. No television service would be offered.
Judging from the information in the slide deck, the city would try to compete with Comcast and CenturyLink primarily on the basis of price, rather than superior service levels. Only 17% of households surveyed showed any positive desire to upgrade Internet speeds. On the other hand, 68% would be interested in switching providers in order to lower their Internet bills, which average $44 a month.
There's no consideration given in the presentation to the inevitable competitive response from the incumbents, who are quite capable of lowering prices and leveraging telephone and, particularly, video bundles. The research shows a high degree of affinity for the city's electric utility, but that's a minor consideration for consumers when picking a service provider. Price, reliability and speed matter far more.
Identifying a market opportunity and successfully competing to serve it are two completely different beasts, particularly when your competition has a head start of months, if not years. I'll look forward to reading the complete report, but I'm not impressed by what I've seen so far.