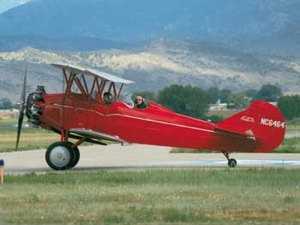 Taxiing towards takeoff in Longmont.
The Longmont, Colorado city council settled for a staff report and a powerpoint presentation that summarized the results of a feasibility study, before voting unanimously to take the next step toward building a municipal fiber-to-the-home system. The nitty-gritty details – business model, raw research data, quantitative analysis and the like – are being kept out of the public domain for now.
The report asked the city council to allow staff to continue moving ahead with work on the project, and in particular to give the city's finance director permission to develop a financing plan, based on various debt options. The bottom line, according to staff, is that…
Debt service repayment will come from the broadband services revenues. Details on financing will be presented at a future council meeting.
In other words, the assumption going forward is that once the system is up and running in something like three years, it will generate enough operating profit to repay the debt incurred to build it. Other municipal FTTH and cable systems – including Provo City and Utopia in Utah and Alameda in California – have gone ahead on that assumption but did not attract sufficient subscribers. The Utah projects have market penetration in the 15% to 20% range, while in Alameda the city's share went as high as 30%, before slipping back due to intense competition. Longmont is counting on a 36% take-rate.
Three debt options are on the table: lease-back financing secured by city property, bonds backed by revenue from the city's electric utility or bonds backed by sales tax receipts. If Longmont's FTTH financial projections are correct, the system will be self supporting. If not, lenders will get any revenue or property offered as collateral.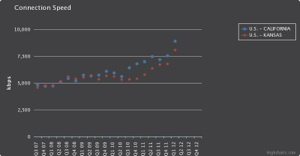 Kansas kicks it up.
Average Internet download speeds over the entire state of Kansas jumped by 86% in 2012, according to the State of the Internet tracking report from Akamai, a content delivery network pioneer.
To be sure, Akamai's study relies on its own observed traffic and more or less ignores low speed, sub-256 Kbps connections, which would bring the average down. But its methodology is reasonably consistent across geographic markets and provides a fair basis for making comparisons.
Even though Google Fiber subscribers are seeing actual average speeds twice that found elsewhere in Kansas, Akamai says that traffic does not account for the speed boost:
The number of unique IP addresses observed for the Google Fiber [system] comprised less than one-tenth of one percent of the state's total, so Google Fiber's higher speeds are unlikely to have had a meaningful impact on the average and average peak connection speeds observed in Kansas during the quarter.
It fits a pattern I've seen, first hand, several times: telcos and cable companies respond to competitive overbuild threats by investing in plant upgrades. I think that's part of the explanation. Another factor could be raised expectations among Kansans generally. Besides basic infrastructure, Akamai's speed measurements also depend on the service consumers choose to buy. So if the Google buzz in Kansas City is contagious, that could boost demand for higher level Internet packages, which in turn would increase observed speeds.
Correlation does not prove causation, but I think it's a fair bet that Google's stimulation is producing the desired effect in Kansas.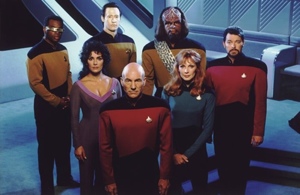 It's more than a 5 year mission to the next generation.
Samsung's latest mobile technology announcement could result in faster mobile data traffic running on much higher frequency bands. Speeds of up to 1 Gbps on the 28 GHz band have been claimed, using antenna designs that are intended to mitigate the poor indoor penetration and range associated with millimeter wavelengths. It's experimental – the commercialization target is 2020 – and intended to be a foundation for 5G service.
5G is undefined at this point, except that it's whatever the next big step up from 4G will be. Deployment is assumed to be some time in the next decade. It's likely to involve more densely packed cells with smaller coverage areas, including in-home femto cells and distributed small cells outdoors. Plus a healthy dose of WiFi offload.
If you make cell sizes smaller, you can use spectrum more intensively. Samsung's technology fits well with that approach: whiz-bang antennas notwithstanding, higher frequencies are more useful at shorter distances.
Whatever it turns out to be, developing 5G technology is absolutely necessary. Mobile traffic continues to increase and the amount of spectrum available is finite. Making use of other bands, like Samsung is doing, will be one piece of the puzzle. 5G will encompass a range of technologies and approaches.
Qualcomm has made "1000x" its mantra. If mobile traffic more or less doubles every year, the compounded growth will be one thousand times in less than ten years, outstripping the capacity of 4G technology. That's why technology leaders are putting markers down on 5G technology today.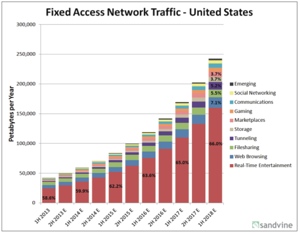 And the hits just keep on coming.
One-third of prime time Internet traffic on North American wireline networks is generated by Netflix viewers. Another third comes from other video sources – legal and otherwise – and anything else people do on the Internet accounts for the remaining third. That's according to the latest semi-annual report by Sandvine, an Internet technology and research company based in Waterloo, Ontario.
Mobile viewers, however, prefer shorter videos on YouTube, which accounts for 27% of peak mobile download traffic, as well as coming in second place on fixed networks at 1%. Netflix's long form programming only accounts for 4% of mobile download traffic, seventh on the list.
BitTorrent-based peer-to-peer traffic of more doubtful provenance is falling behind legal streaming from Netflix, YouTube and the like. It's fourth on the download list, with about 6% of the total. On the other hand, about a third of the upload traffic on North American wireline networks is still generated by BitTorrent file sharing.
Probably not so coincidentally, the heaviest one percent of users also account for a third of the upload traffic. The study doesn't come to any explicit conclusions, but the inference is clear: the small fraction of users that do a lot of uploading are more likely than not primarily engaged in file sharing.
On a monthly basis, the average North American household downloads 39 GB and uploads 6 GB. That's a 39% increase compared to a year ago. But heavy users skew those numbers too. Half of North American households download 16 GB and upload 1.3 GB a month or less.
Sandvine's research more confirmation, if any were needed, that the continuous growth of Internet traffic is driven by video consumption.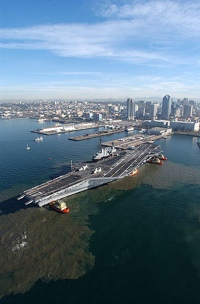 A good place to talk about water, land and technology.
I was asked to do a presentation on broadband trends at the Urban Land Institute's spring meeting in San Diego today. Specifically, it was for one of the ULI's community development councils, which is focused on planned community developers. I had to narrow the list down to five:
Conduit is gold. Cities and private developments can build a base for jobs and industry just by putting conduit in the ground whenever a trench is opened. And it's a no brainer for greenfield developments.
Google wants to disrupt the telecoms business and, on the available evidence, it's succeeding. By threatening incumbents with competition and raising consumer expectations, it's shifting the conversation away from wireless spending and back to fiber optic investment.
Independent middle mile fiber optic infrastructure is the key to economic development for communities outside of core metropolitan areas. And not very far outside, either. Pulling a fiber a few dozen miles over the hill from Santa Clara has re-energized Santa Cruz's economy.
Qualcomm's assumption that mobile data traffic will grow one thousand times in the next few years is simple math. The next generation of mobile data technology will push small cell sites and connecting fiber closer and closer to users.
Connectivity brings you all the comforts of work, where ever you live. Telecommuting, co-working and wireless-equipped company commuter buses make it possible for people to live in the urban areas they love and work at suburban corporate campuses, or chill by the beach and email the job in.
No one builds new housing without planning for water, energy and transportation. My message was that broadband joined that list in the twenty-first century. In other words, now.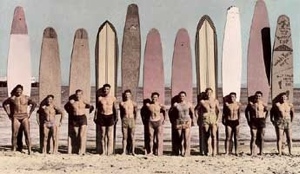 Pioneering surfing of all sorts.
Model broadband development policies are on a fast track in Santa Cruz County. On a unanimous vote yesterday, county supervisors gave staff three months to evaluate four specific recommendations and come back with an action plan.
"This is a far-reaching agenda for increasing the region's access to broadband by lowering the administrative barriers to entry for, and increasing coordination between, private telecommunications providers," wrote Zach Friend, the county supervisor behind the effort.
The policies now under review in Santa Cruz include:
Setting standards and practices for putting broadband facilities in public right of ways.
Creating an online system to coordinate projects that cut into public streets, so that interested private sector companies can take advantage of opportunities to install broadband infrastructure while trenches are open.
Putting information about broadband facilities, public and private alike, into a database and keeping it up to date.
A "dig once" policy, that proactively includes broadband facilities in public projects. Examples include simply installing empty conduit whenever road construction or maintenance work is done.
This framework of model broadband policies was developed by Peter Koht at the City of Santa Cruz, which is also evaluating it. The work is part of a project undertaken by the Central Coast Broadband Consortium (CCBC) and funded by the California Advanced Services Fund. It was presented to elected officials from Santa Cruz and Monterey Counties at a workshop last month that was organized by the Monterey County Business Council on behalf of the CCBC. The objective is to have local agencies in the region – which also includes San Benito County – adopt similar policies.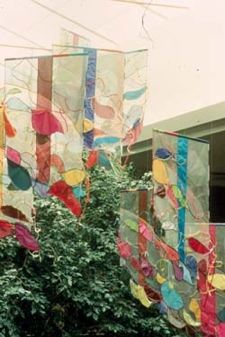 Art is nicely presented in Longmont, too.
The city council in Longmont, Colorado considers today whether to move ahead with plans to build a municipal fiber-to-the-home system. They'll be reviewing a feasibility study prepared by a consulting company and then deciding whether to direct city staff to come up with a financing plan.
Longmont is near Boulder, in the Denver area. The city runs its own electric utility, serving about forty thousand households, and has a backbone fiber optic network that was installed about fifteen years ago to support utility operations. Since then, a handful of dark fiber customers have signed up, generating about a quarter of a million dollars a year for the city. A couple years ago, voters decided to use that money to finance connections for businesses willing to pay a connection fee that can run into thousands of dollars.
The plan that's under consideration now would eliminate connection fees and build out the system to the entire city, homes and businesses alike.
The full feasibility study isn't public yet, but a summary presentation has been released ahead of the meeting. The numbers indicate that the business plan is built on the assumption, drawn from a survey of 400 homes, that 36% of residents will sign up for Internet service and 20% for telephone service. No television service would be offered.
Judging from the information in the slide deck, the city would try to compete with Comcast and CenturyLink primarily on the basis of price, rather than superior service levels. Only 17% of households surveyed showed any positive desire to upgrade Internet speeds. On the other hand, 68% would be interested in switching providers in order to lower their Internet bills, which average $44 a month.
There's no consideration given in the presentation to the inevitable competitive response from the incumbents, who are quite capable of lowering prices and leveraging telephone and, particularly, video bundles. The research shows a high degree of affinity for the city's electric utility, but that's a minor consideration for consumers when picking a service provider. Price, reliability and speed matter far more.
Identifying a market opportunity and successfully competing to serve it are two completely different beasts, particularly when your competition has a head start of months, if not years. I'll look forward to reading the complete report, but I'm not impressed by what I've seen so far.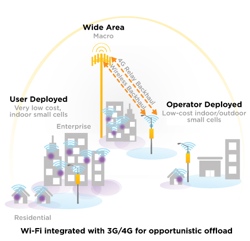 Qualcomm graphic.
"Bringing the network closer to the user is key to 1000x," said Prakash Sangam, director of tech marketing for Qualcomm, speaking to the Wireless Communications Alliance in Santa Clara, California last month. 1000x is Qualcomm's shorthand way of saying that with mobile data traffic more or less doubling every year, we'll need one thousand times the amount of available bandwidth in a few years.
"Reaching this 1000x is a matter of when and not if," Sangam said.
More spectrum and improved technology will help, but not by 1000x. The answer is small – pico and femto – cells and WiFi offload. Either way, it depends on making wireless hops shorts, so frequencies can be re-used in tighter and tighter areas. To do that, wired back haul needs to be pushed closer to users.
Users will provide some of their own back haul, particularly when accessing mobile networks indoors. WiFi and femto cells will transfer traffic to home and office broadband connections.
Outside, though, small cells will either be wired directly, preferably by fiber, or link back to macro cells – AKA regular, old cellular sites and towers – that are connected to fat fiber pipes.
Jonathan Wells, with AJIS Consulting, predicted that within four or five years, only half of mobile data traffic will be carried on traditional macro cells, a quarter on small cells and a quarter off-loaded directly to WiFi.
Some back haul will be wireless, but at some point even that has to be aggregated and routed onto landlines. And it's not something carriers want to do, believing that "wireless backhaul is an absolute last resort and a necessary evil," according to David Witkowski, WCA president and senior product manager of the microwave measurement division at Anritsu.
You can bet on fiber middle mile networks continuing to creep closer and closer to the last mile. The odds are 1,000 to 1 in your favor.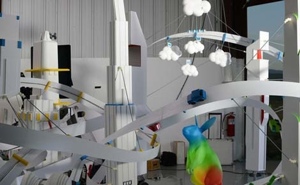 If the hare has staying power, the tortoise will lose.
Google's early results in Kansas City have to be giving incumbent carriers the shakes. According to a survey done by Bernstein Research, one-third of the homes in neighborhoods where Google is already offering Internet and television service have signed up. And even more are thinking about it.
Bernstein surveyed 200 homes in the relatively small area where Google Fiber is up and running. One-third were already taking the service and of the rest, about three-quarters were thinking about it. Most Google Fiber subscribers were paying a monthly fee for service. Bernstein estimated that only ten to fifteen percent opted for the free-ish tier: pay an up front installation fee of $300 and get 5 Mbps at no further cost for seven years.
It's easy to read too much into these findings. Google picked its first "fiber-hoods" on the basis of pre-commitments from households, so fast uptake is not particularly surprising. Even so, it's about double what other fiber overbuilders are seeing, including the city-owned system in Provo, Utah that Google just acquired. The take rate there is estimated to be in the 15% to 20% range, a figured matched in the neighboring Utopia fiber-to-the-home system.
Google has a stone simple selling proposition – 5 Mbps free, $70 for a gig, $120 for a gig plus 200 TV channels – that's reinforced by a well known and trusted brand identity. If its share just pulls even with the competition in high margin market segments, which it appears to doing so far, it could wash away their profits.
That's the competitive threat that cable and telephone companies are reacting to now.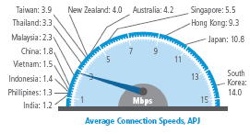 Asia-Pacific 4th quarter 2012
Asian countries hit the top of the charts in the latest "State of the Internet" rankings released by content delivery network pioneer Akamai. The numbers for the last quarter of 2012 rank Korea, Japan and Hong Kong 1-2-3 in terms of average broadband download speed, with scores of 14.0, 10.8 and 9.3 Mbps respectively.
Before the hand-wringing over the U.S. not being number one starts, consider that 1. it does pretty well coming in at eighth place with average broadband download rate of 7.4 Mbps and 2. you get a hell of lot more households per fiber mile in the top three than you do in the wide open spaces of America. Singapore has the same kind of high density housing blocks, by the way, and it only ranks 26th with an average connection speed of 5.5 Mbps.
China is a world champion too. It's the number one source of Internet attacks in the world, by a huge margin. Forty-one percent of the attacks captured by Akamai originated in China, a number that climbed about 8% since the last report. The U.S. is still in second place with 10% of Internet attacks, down from 13%. India made the top ten attack list, accounting for 2.3% of the world's total.
China and India don't do so well in terms of widespread Internet access speeds, though, ranking 91st and 116th with 1.8 and 1.2 Mbps average broadband download speeds respectively. Australia and New Zealand came in 41st and 42nd at 4.2 and 4.0 Mbps.
Caveats abound. Akamai is focused on the traffic that runs through its CDN and it excludes what it defines as narrowband traffic – connections less than 256 Kbps. But taken as a whole, it's a fair comparison of the speeds most people across the world who subscribe to broadband service actually get. And almost universally, speeds continue to climb.